NiMCO was founded in 1958 as Northern Illinois Machinery Company, a machine job shop and manufacture of small milling machine tools. The packaging division was formed in 1962 when the milk carton was changed from a wax coated to a heat sealable plastic-coated paper board carton. NiMCO was acquired by the Bachner family in 1972.
NiMCO Corporation is a worldwide leading independent manufacturer of gable-top packaging machinery. We operate from our modern 40,000 sq. ft. factory. Our state-of-the-art facility, located just outside Chicago, IL is dedicated to the assembly, testing, and servicing of all NiMCO products and provides major advantages in production capacity, efficiencies, and order lead-times.
Why Choose the NiMCO Corporation?
NiMCO Corporation is a worldwide leading independent manufacturer of Gable-Top packaging machinery. We provide the best packaging equipment with the best service and support. NiMCO is the only family-owned USA manufacture of Gable-Top Packaging Equipment. Our NiMCO machines can be customized to the customers' requirements.
Recognized as a leader promoting, milk, juice, food, and non-food packaging applications, NiMCO also manufactures machine systems to form and fill rectangular or custom carton sizes to satisfy the needs of a demanding global marketplace.NiMCO machines are in service in over 75 countries around the globe. The NiMCO equipment will form, apply cap, decontaminate, and seal paperboard gable top carton blanks manufactured by any qualified converter. We are represented internationally by recognized distributors, licensees and representatives who sell and service NiMCO equipment. NiMCO offers machine installation, machine training, and machine maintenance contracts on all equipment. We want to assure the customer is very knowledgeable on our machines so we offer a unique service – customers can come to our facility and receive free training on their machine. In addition, our service technicians travel the world to install and repair NiMCO equipment.
NiMCO has an exceptional customer service team and an extensive inventory supply. If a customer has a question about their equipment or needs to order parts, we have service techs and customer service team members that are available to help over the phone. NiMCO understands that your NiMCO Machine is an important part of packaging your product, we make sure to always have parts in stock.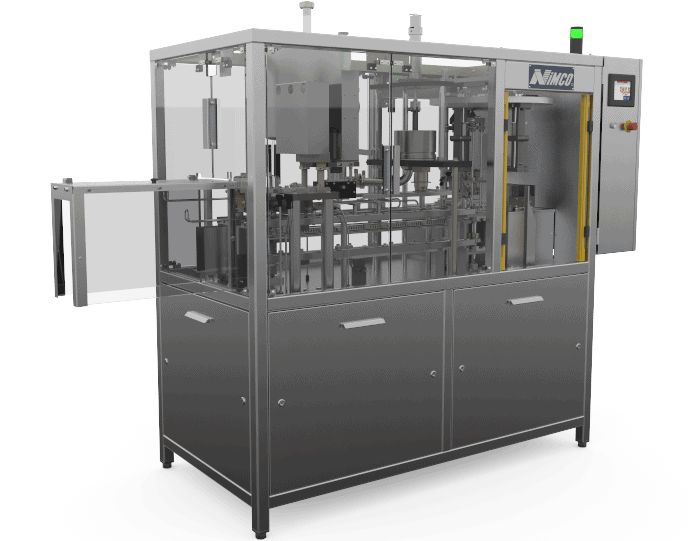 Our Mission
To provide reliable and affordable USA manufactured
Gable-Top Form, Fill and Seal machinery systems.
NiMCO has a strong reputation and proven track record for providing the highest quality food and non-food products for the following industries but not limited to:
Food Products
Dairy Products
Juice
Liquid Eggs,
Tea
Candy
Snacks
Salads
Meats
Pet Food
Soups
Sprinkles & Sauces
Water
Non-Food
Powder Mix
Ammunition
Grout
Detergent
Shampoo
Oil
Salt
Hand Soap